Unofficial ballot drop off boxes popping up in California
Today the California Secretary of State Alex Padilla sent a memo to All County Clerks/Registrars of Voters warning them that his office was investigating unofficial and illegal ballot drop off boxes in three California counties. 
In the memo Padialla stated, "Our office has been made aware of unauthorized, non-official ballot drop boxes being used or having been proposed to be used at local political party offices, candidate headquarters, and churches throughout the state. Examples provided to our office include boxes or containers labeled simply as "ballot drop boxes," while others have been designated misleadingly as "official ballot drop boxes."
The letter was sent to clarify what is allowed and what is not not allowed when it comes to ballot drop off boxes as reports have been coming in about potential unofficial ballot boxes in Fresno, Orange, and Los Angeles counties. Several boxes had been found in local political party offices, candidate headquarters and churches.
Some social media posts also depict some of the unofficial ballot boxes in question. Jordan Tygh, a regional field director for the California Republican Party, received criticism after tweeting a photo of himself last Thursday kneeling and giving a thumbs-up next to a filing cabinet-sized container with a piece of paper taped to it that read: "Official Ballot Drop Off Box."
In Tygh's tweet he said, "doing my part and voting early," and that he had cast his ballot for Republican candidate Michelle Steel, who is running for California's 48th congressional seat against Democratic incumbent Rep. Harley Rouda. He also told people to direct message him for "convenient locations to drop your ballot off." The tweet has since been taken down.
It is still unclear who has been installing the unofficial ballot boxes, but Padillas' memo puts those responsible on notice.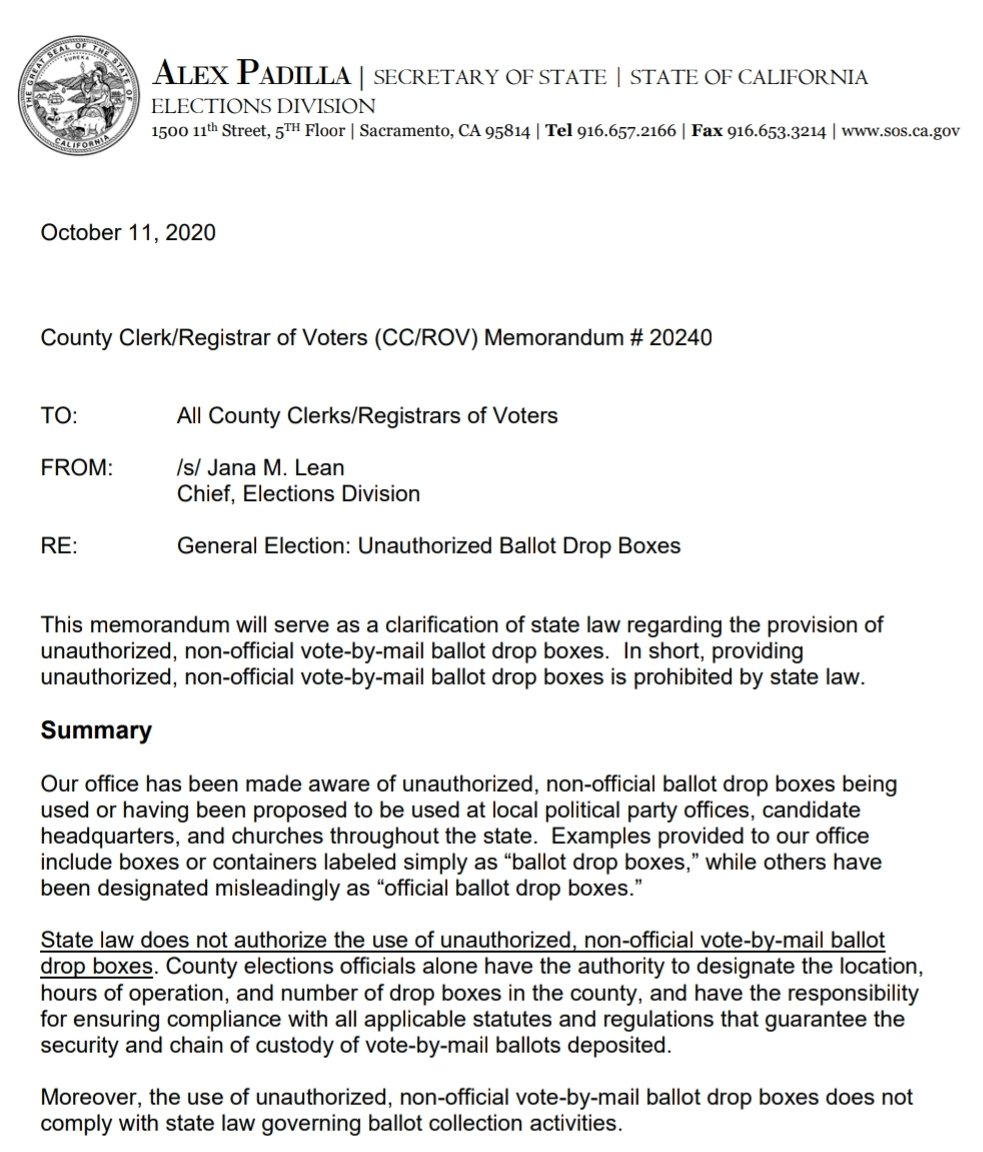 With one of the most contentious elections in our country's history, one has to have faith that the vote is the people's vote and that it has not been tampered with. More eyes are watching every aspect of this election than ever before. No doubt that there will be those that attempt to circumvent the law in an attempt to garner the outcome that they want
We simply cannot allow any deviation from the law. Republican, democrats, and Independents must be held accountable and to the same standard.
Officials state that unofficial ballot boxes lack the security needed to ensure that votes are not tampered with. They urged anyone who suspects that a ballot box is not official, to contact law enforcement or election officials.
Padilla said that Californians should only use official ballot drop boxes that have been deployed and secured by their county elections office. He said official county drop boxes are built with specific security protections, and ballots are retrieved only by designated county personnel. Official ballot drop boxes and drop off locations in California can be found at caearlyvoting.sos.ca.gov.